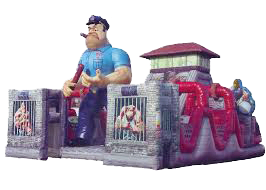 Alcatraz Obstacle Course




$875.00
Please call to reserve this item.

Alcatraz Inflatable Obstacle Course
This huge obstacle is 25 feet wide and 40 feet
long, standing at a towering 20 feet tall, this one
will impress all. Two participants enter the
obstacle, one on either side then race through
one of the most demanding obstacles you will find.
Be the first contestant to escape from Alcatraz
by rushing through the course, down the slide
and past the towering gaurd.
Escape from Alcatraz...if you can!
Please call to Book
780-406-6332
$875 for a 4 hour rental
Additional hours are $100/hour.

This is an AEDARSA Certified Unit for any Public Event.